Quick Details
Strucuture
The products are divided into A and B types. Two types' structure is the same, Only the cable outlet and lever directionis the opposite. A type mounted on the left side of the belt,B type mounted on the right side of the belt. Usually, the two types are supporting the use, if need one, can also be supply,Cable length can be increased or reduced.
Application
This product is designed for wire rope pull belt conveyor happed running out of Rope, fall belt, broken belt failure, can timely stop to avoid the big accident.
Operation Instruction
This product can be mounted by rack or shelf on belt conveyer,Pull the lever pointing the direction of the belt, Make the lever's transver end put below the belt 3-5cm side. And inserted firmly the card slot of the switch body and base. Once off the rope,fall belt happed, lever under pressure will flip down the switch body pulled from the card slot. The mercury is cut off, will send a fault signal, or directly made motor contactor Coil Power off, So the strip machine timely stop running and get the urn protected.
Technical Specification
| | |
| --- | --- |
| Product model 产品型号 | PZ-21 |
| Voltage rating 额定电压 | 220VAC |
| Current rating 额定电流 | 3A |
| Operating force 动作压力 | ≥2Kg |
| Operating angle 工作角度 | 180° |
| Contact form 触点形式 | NC/NO |
| Protection degree 防护等级 | IP67 |
| Contact resistance 接触电阻 | ≤200mΩ |
| Medium withstand voltage 介质耐压 | ≥2500VAC |
| Insulating resistance 绝缘电阻 | ≥100MΩ |
| Operating temperature 工作温度 | -25-80℃ |
Installed position and working Principle
When the belt running direction as shown, Far side Installation B type, Near-side installation A type.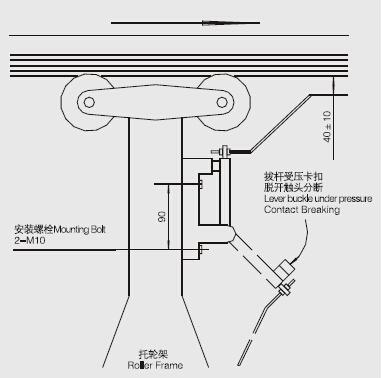 Feedback
News