Quick Details
Strucuture
The Switch use ABS plastic shell and use the epoxy resin sealed mercury switch as contact, has excellent moisture, corrostion resisitance, can not be considered the impact of water, dust, gas and acid-base gas.
Application
This switch is mine switch, reference to similar foreign products. It is used for mining, control and the occruence of stroke position signal In chemical production for wellhead safety door, etc.
Operation Instruction
For easy positioning, One of the two mounting holes is designed to be curved. So can make a deflection of about 40 after installation, I n order to select the optimal operation point, then tighten the bolts.
Technical Specification
| | |
| --- | --- |
| Product model 产品型号 | PZ-31 |
| Voltage rating 额定电压 | 220VAC |
| Current rating 额定电流 | 3A |
| Operating angle 工作角度 | 15° |
| Contact form 触点形式 | 1NC1NO |
| Protection degree 防护等级 | IP67 |
| Contact resistance 接触电阻 | ≤200mΩ |
| Medium withstand voltage 介质耐压 | ≥2500VAC |
| Insulating resistance 绝缘电阻 | ≥100MΩ |
| Operating temperature 工作温度 | -25-80℃ |
Outshape mounting & working position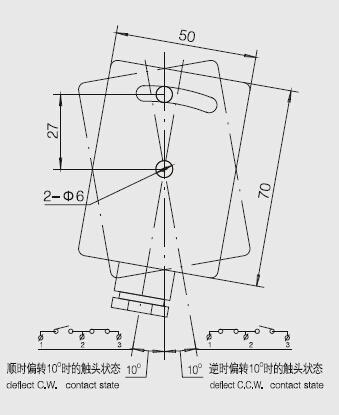 Feedback
News