Quick Details
● Kinds of shell's material for choice,such as engineering plastic,steel panel,aluminium alloy,etc;
● Metal shell use the stregenthening to reast the surfase,bears the impact,the wearability,thermostable;
● Cable lock-in jacket is made for the cable coming out and it is waterproof,grease proofing;
● Switch bottom is equipped with the rubber pad,for skidproof;
● Widely used for control in industrial automation equipments,transport,pressing,medical treatment,test and etc.
Model & Meanings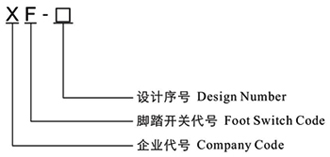 Basic parameters
| | |
| --- | --- |
| 接触电阻 Contact resistance | 25mΩ(初值 initial value) |
| 绝缘电阻 Insulation resistance | 100mΩ以上(Above) DC500V |
| 介质耐压 Withstand voltage | ≥2000VAC |
| 机械寿命 Mechanical Life | 1,000,000次以上 above |
| 电气寿命 Electrical Life | 100,000次以上 above |
| 使用温度 Operating temperature | -20~+70OC |
| 使用湿度 Operating Humidity | ≤85% |
Contact Forms

Application attentions
·According to the difference of load and current value, rated load should be taken note. Current value of this series is 10A、15A and 16A
·When transporting and moving, pls take note of the short circuit or open circuit may happen in internal wiring;
·Please take note of the level of protection when used in water, oil and bug dust. This series has protective type and unprotective type
·The immediate cause for broken is stress and attack, please pay attention;
·Warning mark'Danger! High Voltage!' and'Take note!' remind us pay attention to personnel safety and correctly operation.
Dimensions / Specification
| | |
| --- | --- |
| 材 质 Material | 铝合金(Aluminium) |
| 内置开关 Inner Switch | Slow Action Type |
| 额定负载 Rating Load | 16A/250VAC |
| 触点形式 Contact Form | 1NC1NO×2 |
| 引出电缆 Outgoing Cable | -- |
| 防护等级 Protection Degree | IP65 |

Feedback
News