Quick Details
·The cover is made of thermoplastic and brass alloy.
·The sensor built in over-load protection,short-circuit protection, reverse-connection protection and surge absorbing circuits.
·Multiple connect options ,flexible and convenient installation .
·Protection degree can reach to IP67,water-proof,oil-proof and dust-proof.
·LED indicates work condition.
·Widely used in water lever and liquid lever detection , industrical automatic production line dection,safety detection,position detection and alarm appliance diction, etc.
Model & Meanings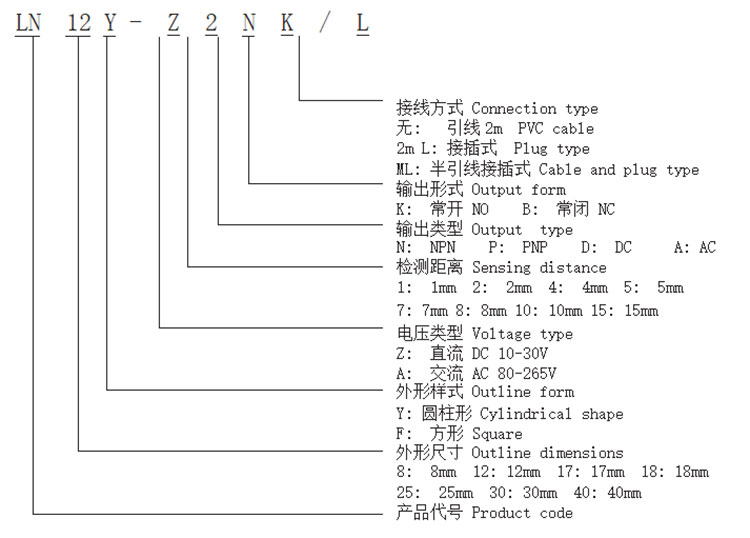 Connection Diagram

Specification
产品型号 Model
LN8Y-Z1NK/ML LN8Y-Z1NB/ML
LN8Y-Z2NK/ML LN8Y-Z2NB/ML
LN8Y-Z1PK/ML LN8Y-Z1PB/ML
LN8Y-Z2PK/ML LN8Y-Z2PB/ML
LN8Y-Z1DK/ML LN8Y-Z1DB/ML
LN8Y-Z2DK/ML LN8Y-Z2DB/ML
安装方式 Mounting
屏蔽式 Shield
非屏蔽式 Non shield
最大检测距离 Max. Sensing Distance
1.2mm±10%
2mm±10%
稳定检测范围 Stable Sensing Area
0-1mm
0-1.8mm
工作频率 Operating Frequency
1.5KHz(AC 20Hz)
1KHz(AC 20Hz)
标准检出物 Standard Detected Object
8×8×1mm(铁Iron)
工作电压 Supply Voltage
10-30VDC(纹波Ripple<10%)
漏电流 Leakage Current
<0.6mA
应差距离 Movement Differential
<1.2mm×10%
<2mm×10%
消耗电流 Consumption Current
15mA
负载电流 Load Current
200mA
残留电压 Voltage Drop
<3V
工作温度 Operating Temperature
-25~80℃
抗冲击 Impact
50m/s
抗振动 Vibration
10-55Hz 振幅 Amplitude 1MM
连接方式 Connection Type
半引线接插式
外壳材料 Housing Material
黄铜镀镍 Nickel plated brass
检测面材料 Sensing Surface Material
PBT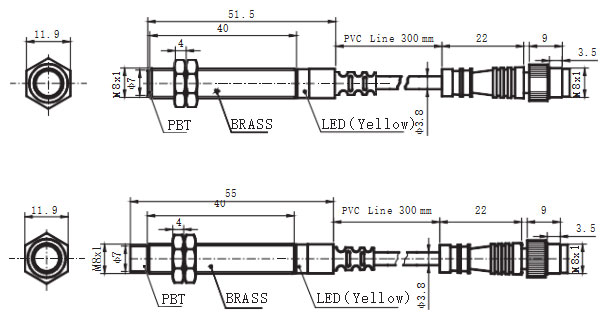 Installation Conditions
Non shielded proximity switches can achieve maximum operating distance (with the diameter of the relevant); but in order to prevent the switch around the metal impact on the switch, the sensor head must be in a certain gap with the surrounding metal (Figure 1).
Due to the special shielding effect inside the shield, the radialmagnetic field of the side is reduced, and the induction distance is about 60% of the non shield type, because it can be flush mounted inthe metal (Figure 2).
The magnetic sensor is not affected by the conditions ofinstallation, as long as the material around the material is notmagnetized.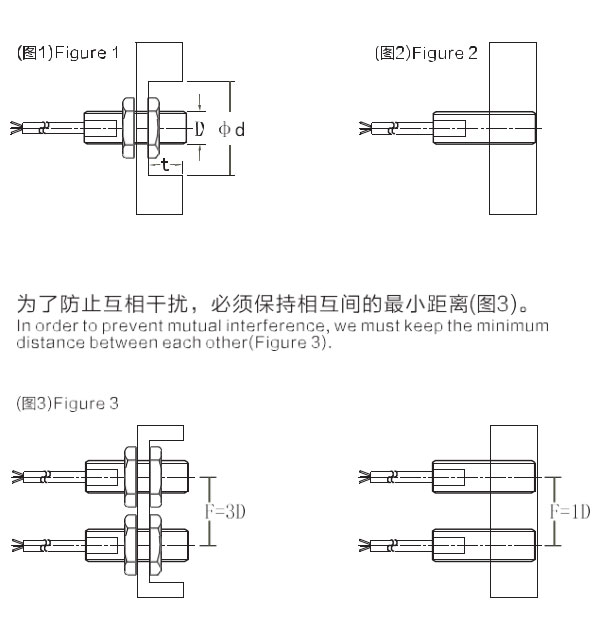 Feedback
News